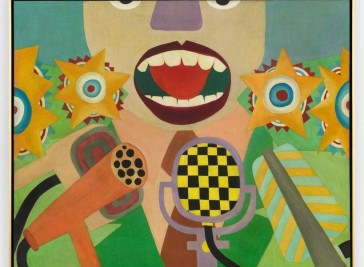 Press
Antonio Henrique Amaral at Mitchell-Innes & Nash
Air Mail
February 22, 2023
Antonio Henrique Amaral (1935–2015) was 29 when the 1964 Brazilian coup d'état installed military rule in his home country. Amaral never shied away from getting political with his art. Brightly colored paintings offered clever critiques of Brazil's export culture and barbaric politics. In the 1990s, when the conversation shifted to the fight for the rainforest, Amaral again used his art to make powerful comment. This exhibition of his work, the largest outside of South America since 1996, presents 12 paintings that come from three different series: the themes are bocas (mouths), batalhas (the battlefied), and bananas.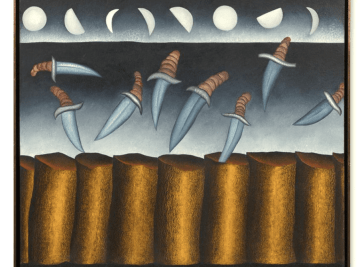 Press
'The Art Show' Showcases Meticulous Curation And Raises Over $1 Million For Henry Street Settlement
Forbes
November 3, 2022
It's a delight to encounter such a meticulously curated show that amplifies the importance of art fairs in rewriting art history. Moreover, last night's Benefit Preview in support of the Henry Street Settlement, which also celebrated the ADAA's 60th anniversary, raised more than $1 million for the 130-year-old charity. Over more than three decades, The Art Show has collected over $36 million for the Henry Street Settlement. We're transported back to the Brazilian and Latin American art scene through the symbolic work of Antonio Henrique Amaral featured at the Mitchell-Innes & Nash booth. Best known for his series of paintings of bananas that have been mutilated by forks and ropes, As Time Goes By (1993) depicts contorted daggers flying below various moon phases as three hyper-stylized ratlike creatures with fierce fangs skulk to the viewer's left.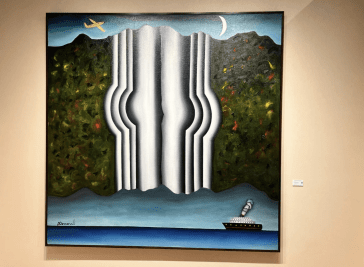 Press
The Best Booths at an ADAA Art Show Filled with Memorable Presentations by History's Most Under-Recognized Artists
ARTnews
November 3, 2022
Currently celebrating its 60th year, the Art Dealers Association of America opened this year's edition of its annual fair, the Art Show, last night at New York's Park Avenue Armory. Mitchell-Innes & Nash is presenting the work of Antonio Henrique Amaral, whose estate it has just recently began working with. Amaral's work shows a debt to the surreal paintings of Tarsila do Amaral, a pioneering Brazilian modernist who happened to be a distant relative. Having come of age in Brazil during the country's dictatorship, Amaral, who died in 2015, filled his art with fierce but subtle political stances. Many of the works on view here are from the '90s and show the artist's turn toward environmentalism, advocating against the deforestation of the Amazon. These are powerful works that feel as timely as ever.